Hi..... From the beginning... I am number 095.... It is a 24 year old restoration... took four years. Experimented a ton but that's half the fun... I originally had in the standard manual lift tubes from the factory in Oakland.... They worked very well.... and for a few years I used to manually lift the canopy but wanted a cool factor. I ordered 8" SPAL linear actuators... made my own mounting brackets (love to design and fabricate) and left the manual lift tubes in place so the linear actuators should have been lifting VERY LITTLE weight.... This was OK... worked for a number of years.... had the operation on a dash mounted toggle switch.... and then added a remote control unit from Dana German; kind of custom made at that time. It also worked well... The wow factor in a parking lot when you opened the canopy from a distance was something else... Lately, that remote has not been working all that well... I did some troubleshooting and have it better but think "age" has taken its toll on that.. The toggle switch still works great. I replaced the SPAL actuators a few years ago but I am not all that happy with them. TOO SLOW!!!! So I have been researching.... My current actuators lift at 14 mm per second (half inch) so for an eight inch stroke it is taking 16 seconds which is OK .... but.... I found some used high speed units on Ebay and have been researching them... I just found out that a fully intact canopy with glass is about 250 pounds, but as I said, I left the original lift tubes in place and the linear actuators work in conjunction with them.... I remove the top bolt from the actuators and still lift the canopy using "armstrong" and the original tubes still hold the canopy up fine... and it is easy to lift.... the problem is the time it takes to lift it now with the Chinese specials I bought..... So... I am considering these....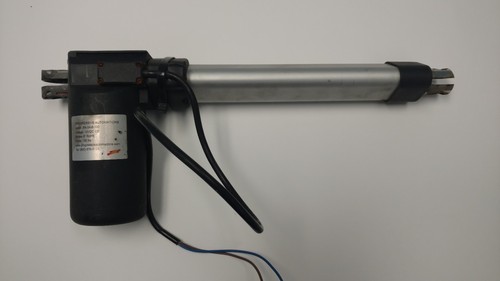 Find many great new & used options and get the best deals for Linear Actuator - IP66 - 12VDC - 8" stroke - 100 lbs - Speed 2.80"/sec - USED PA at the best online prices at eBay! Free shipping for many products!
The distance from the top and bottom holes are an inch or so longer than the current actuators so I will need to goof off with that a bit... not a big problem... but if you look at the lift time under load it it is better than 2 inches per second.... four seconds to get the canopy up in the air and down.... The force is rated at 100 pounds but there are two so that would lift 200 pounds and with the existing original tubes in place..... and since the canopy is counterbalanced and weighs essentially... well.. nothing... these actuator should work fine...
The plan is to buy two of these for $110 and then bench test them... and install them after reworking the mounting brackets.... and cross my fingers.... If they work as stated, I will buy at least one more to keep on the shelf just in case of a failure....
I went to the original company's website to read all about these and they are Canadian I believe....
So my question.... What am I missing? I even checked out the bolt hole size on both the top and bottom openings and they will work with my existing system.... I just want to ask if anybody sees something that I have not considered.... or should consider..... All suggestions/thoughts appreciated... Thanks Dennis...
PS.... I got the car out of its storage home two weeks ago and did a bunch of maintenance on it and also spent some time adding a polymer coating to it.... and of course I have torn into the linear actuator controls to make sure the connections have not corroded... they all looked like the day I put them together....
Have a good one.....