regarding picking parts out of the junkyard...I've done that and learned that it usually isn't worth my time and effort for the small stuff - Amazon is much easier to browse and they deliver! Plus, the parts are new, clean and warrantied instead of covered in decades of grease and may not even work.
Speaking of Amazon, in addition to a few more misc parts, I ordered some connectors and wire loom - delivered in SIX boxes! Not sure how Amazon can still make money with Free Prime Shipping when they send out that many boxes...
We had a nice weekend here (low 30s), so I flipped on the garage furnace and cranked the stereo and got to work!
Light harnesses are done, here is the rear:
And now I'm working on the column/firewall/front end connections: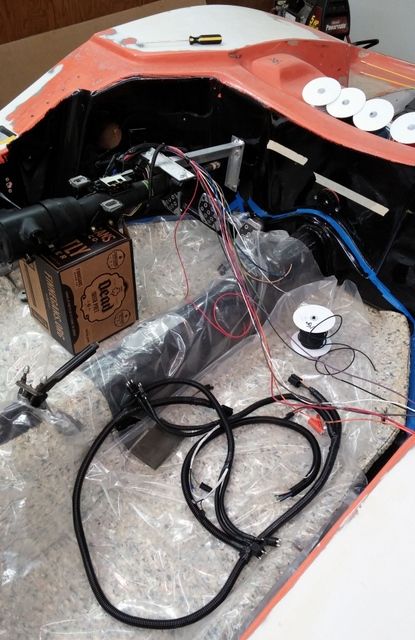 Unfortunately, the one part I'm not having any luck in finding online anywhere is the main harness side connector for the windshield wiper motor. I found one source online, but he sells used harnesses with either 3 or 4 wires - for $25+s&h each. Even *I* might head to the junkyard for that part...plus, I need 5 wires anyways.
Anybody ever found an online source for the connector into which I can plug one of these: