Hi guys.
My name's Drew Joseph, and I live in western Michigan. I've been a member here for a while, but am mainly a lurker -- don't own a Sterling or related car, and just kinda look at others' posts here. Very interesting site, and informative.
I do hope to own one of these cars someday, but for now, it's kind of a long-term dream. If I do ever end up with one, I'd like to mount it on a tube chassis, and so am now studying & pondering the design of one. I've done a fair amount of measuring VW pans & sketching things out, but am still in the early stages. (And I need to gradually win over my wife, the gatekeeper of All Fun Guy Things, with the idea of a Sterling.) (I hope.) (Too many hopeless-junker projects in my past for her to not be skeptical.)
I was wondering if any of you guys out there with a Sterling, Sebring or Cimbria might possibly be willing to measure a few dimensions on your car for me. I believe that, on Sterlings, the VW donor pan doesn't sit at the stock ride height, and so the measurements I've taken of a few VW's only go so far in usefulness. I'm not sure if there is anything like a "standard" ride height that's typically used on these cars, but I was hoping to get measurements from a few different cars to come up with a 'consensus' figure as a starting point. Below are sketches of the measurements I'd like to get, if anyone would be willing & has the time. I'd greatly appreciate any info anyone could offer.
In this first pic, I'd just like to get the distance from the ground to the underside of the raised pan lip at the sides of the pan, with the Sterling at typical ride height, normal tire pressure, level ground, etc. The sketch assumes that the pan has a lowered area, for seating height.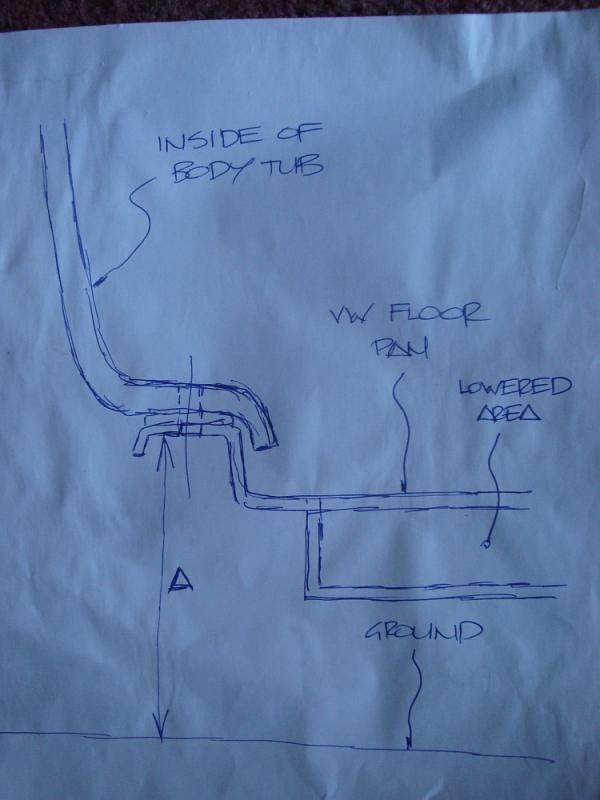 In this one, I'd like to get the distance from the ground to the center of the transaxle output shaft, and the distance from the ground to the center of the frame horn bolts under the transaxle.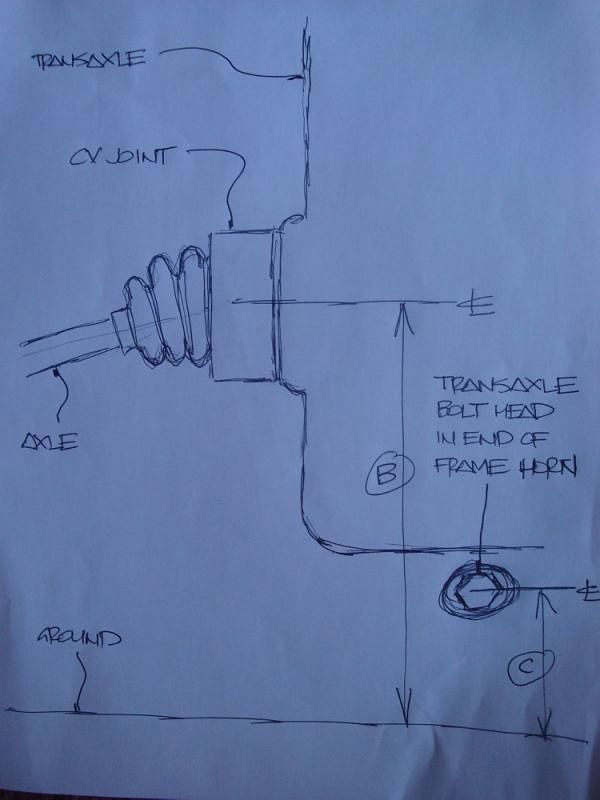 Thank you very much. Any info would be great. Sorry for any hassle in asking you guys to crawl around under your cars for this stuff.